Past Projects & News >>
Projects & News
13 Mar '15
New York, USA
From the Right to Light to the Right Lights
In a public event hosted by Parsons for the International Year or Light and curated by IES education columnist and Parsons's professor Nathalie Rozot, speakers from CLSF and SLM will present initiatives that range from ongoing projects in informal settlements in Haiti to participatory workshops in low-income housing environments. In a panel following the presentations, speakers will debate the role that socially-engaged lighting design practices play and how lighting education can support a stronger social culture in practice and discourse.
We are seeking sponsorship for the program:
– Program Sponsor (1 x US$1,500)
– Event Sponsor (3 x US$500)
– Individual Sponsor (Unlimited x US$20)
27 Jan – 20 Feb '15
LSE Atrium Gallery, London

Exhibition on the London workshop
Details >>
16 Jan '14
Hjulsta, Sweden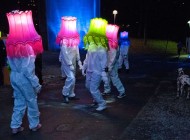 Invitation to the inauguration of new light installation.
Details >>
Past Lectures >>
Lecture Calendar
13 Oct – 17 Oct '14
London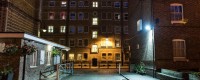 A five-day workshop bringing together lighting design professionals, architects, designers, planners and social scientists to will equip design professionals with the social research methods they need to create more 'social designs' in their daily practices and extend the adoption of social research in design processes. Focus is on a lighting design intervention to improve outdoor spaces at Peabody's Whitecross Estate in Islington.
Details >>
21 Aug – 22 Aug '14
São Paulo, Brazil

The L + D Magazine and Publisher Lumière presents the 5th edition of LEDforum bringing together designers to discuss the application of LED technology, concepts and direction of illumination.
Details >>
21 Mar – 22 Mar '14
Rimini, Italy

Elettra speaks about SLM in the Welcoming Cities room.
Details >>
Workshops
Format: About 30 students, 4 workshop leaders – Elettra Bordonaro, Isabelle Corten, Erik Olsson and Joran Linder, plus a Guerrilla Lighting event by Sharon Stammers and Martin Lupton of Light Collective, 3 days for students to come up with a series of lighting ideas for the site, looking at branding with light, connections, entrances to housing blocks, playgrounds, tube station etc and then presenting them to a professional lighting audience on Day 4, as part of an international lighting conference.
Love