Work After the Workshop
Hjulsta, Sweden
The 2nd Social Light Movement Workshop took place in Sweden in the first week of October 2012. This time the SLM brought light and love to Hjulsta, a 'million housing project' estate on the outskirts of Stockholm.
FOREST
One of the ideas presented during the workshop has been chosen to be developed further. (Presentation during the workshop below.)
When we returned later after the workshop, "the forest" is no longer a forest. Perhaps it has never been a forest, even though we have called it so? The garden workers from Stockholm have cleared it considerably, removing all the weeds and cutting down trees, so that the forest is now more of a hill with some pines on. (See picture below)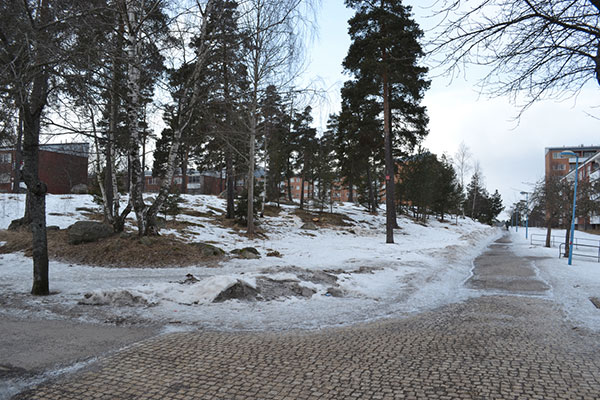 Although we have not received any financial constraints on the project, we cannot be totally unrealistic in terms of the cost of installation. We want the Stockholm Traffic Office and Einar Mattsson to be able to afford to implement the other groups' suggestions as well.
During our visit, we found out that the forest / hill was mostly composed of rocks and stones and that there would be significant costs to dig down to install fixtures and cables to illuminate individual trees. However, it is possible to do it in the outer edges of the forest, in some important positions.
Our solution is instead based on making use of luminaires (LED) suspended on wires and stretched between poles.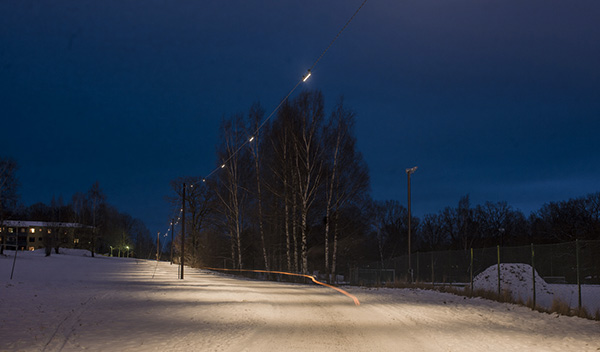 Reference from Olsson & Linder's installation in Alingsås.
MEMORY NOTES – MOCK-UP ("FOREST")
The primary objective of the mock-up was to evaluate our proposed solution; LED on a suspension cable at high-altitude, suspended between a few posts around the forest. By the use of two cranes, we could get up high enough to see that the first test with color filters on the luminaires was not good enough. The color filters simply took away too much light, so we could not suggest it as a permanent solution.
However, when we did the test without color filters we achieved a fully acceptable level of light that also seemed pleasant and kind. We decided that we would move forward with this idea. Instead we decided to use accent lighting, to somehow get the color in and around the forest. Narrow beam spotlights mounted on the "wire posts" might be possible, but we want to allow more colors than the default colors: red, blue and green. We will work on that.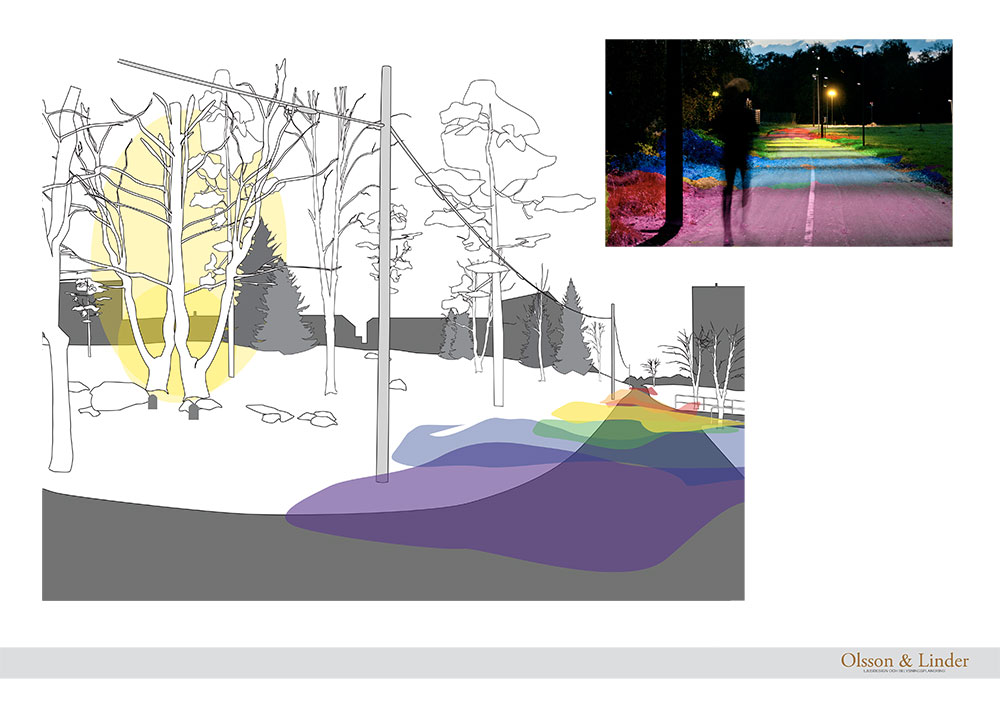 After the mock-up, we went with the installation team OneNordic (electricians) around the forest to locate the possible locations for the suspension cable. It turned out to be not that easy, but not impossible...
The Installation!
On 16th January 2014, the installation will be inaugurated. Details here!
Press
Lighting Landmarx, Mondo Arc
Stockholm satsar på kreativt ljus för ökad trygghet i Hjulsta, LJUSKULTUR 2 / 14
"Gerillaattack" med lampor skapar trygghet, Fastighetstidningen nr8 2012
Respekt!, Ljuskultur nr6 2012